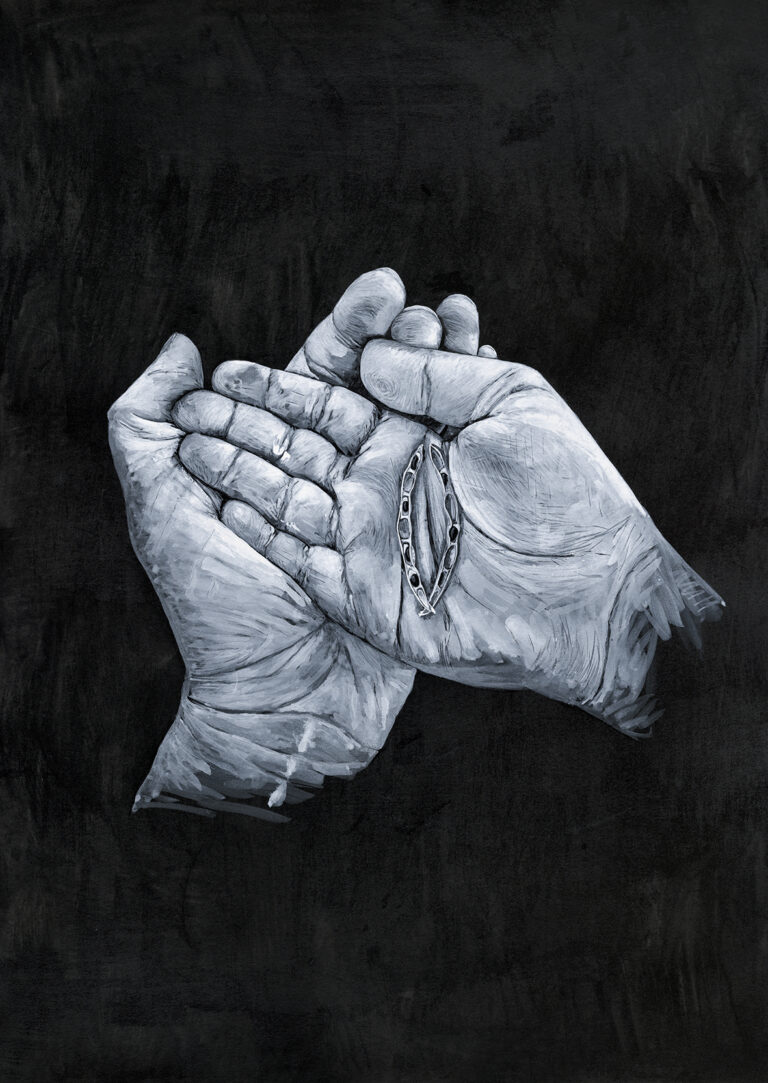 Last year, AICSA commissioned artists to produce work inspired by our five key advocacy messages.  We asked Louise Flaherty to create a piece inspired by the message:
Funding the foundation to thrive.
Individual practising artists and small-to-medium arts organisations form the foundation of the arts sector and cultural economy, through their original artistic and cultural production, their employment, and their engagement with audiences. Artists and small-to medium organisations should be funded to thrive in South Australia, through ongoing and well-resourced grants and operational programs, fellowships, and public employment initiatives.

Artist Statement:  This drawing is aligned with a body of work I made this year depicting the hands of a wide range of people who care for our plants and ecosystems.  I made this drawing especially for this commission to represent the care and foundation that artists need to be able to grow and make work. Just like these Acacia seeds need care and a good foundation to grow into a tree, for artists to grow and make valuable contributions to our community they need to be funded so that they can thrive in their arts practice. 

AICSA's work: AICSA is continuing to work with the Minister for the Arts and the Treasurer to achieve a sector-wide application of the not-for-profit indexation supplementation included in this year's mid-year budget review. Currently, we believe, only six arts organisations in South Australia have been granted the full indexation rate for the last financial year of 5.1%, comprising the base 2.5% plus 2.6% top-up. All other funded organisations will continue to receive the 2.5% rate. This represents a funding cut when considered in relation to inflation.
AICSA recently co-wrote a letter to the Treasurer alongside civil society colleagues SACOSS and Conversation SA to call for a fair, sector-wide approach in which all NFP organisations should receive the indexation top-up in full.  We will continue to advocate to the South Australian Government on this matter of funding fairness and transparency.  For more information about this work, please see our August E-News.

About the artist: Louise Flaherty is an artist and arts worker based on Kaurna land Adelaide. Informed by quiet reflection on the natural environment with a focus of research native flora communities of South Australia. Louise is a socially engaged artist and her current practice spans drawing, installation and participatory practice with a focus on collaborative community driven projects. 
This project was made possible with assistance from the Arts SA Arts Recovery Fund.