A Life in the Arts: For Love or Money
2018 Adelaide Festival of Ideas
Date: Friday 13 July 2018
Time: 12pm-1.30pm
Venue: AHMS GO30, Adelaide Health & Medical Sciences Building, University of Adelaide, North Tce West
Admission: Free entry
AICSA is delighted to welcome back the Adelaide Festival of Ideas and to present the forum 'A Life in the Arts: For Love or Money'. We are thrilled to announce our speakers, all prominent South Australian artists and cultural practitioners working across performance, visual arts, theatre and film:
Robyn Archer is often referred to as a national treasure. She is known to many for her one woman shows in the 1970s and 80s, by others for her original songs and recordings, and now by thousands more for her memorable arts festivals in Canberra, Melbourne, Adelaide and Tasmania. Among her proudest recent moments was when Indigenous colleagues in the arts referred to her publicly as 'aunty' – a genuine measure of respect and acknowledgement of experience and wisdom. These days Robyn combines artistic direction with concert performance, strategic advice, mentoring younger artists and artistic directors, speaking and writing about the arts across Australia and the world. She is very much in demand.
Emma started making shows for her mum in her bedroom when she was six. Since then, she has graduated from Flinders Drama Centre, worked in theatre, screen and developed a practice developing theatre shows from conversations with strangers, talking about the banal, funny, intimate and meaningful. The best of these moments Emma collects together to make a show, and is constantly seeking to replicate the joy and art of a great conversation on stage.
James Dodd exhibits regularly across Australia in publicly funded institutions, commercial galleries and artist-run spaces. He works across a range of mediums with particular interests in painting, machines as art, graffiti, adventure and public space. He maintains a curiosity in sheds, backyards suburbia and the creative activities and transgressions that occur in these spaces. Dodd is active as an educator at Adelaide Central School of Art and regularly delivers youth and community based arts programs across a range of outcomes. Dodd is represented by Hugo Michell Gallery, Adelaide.
Sophie's debut-fiction film 52 Tuesdays(director/producer/co-writer) won the directing award in World Cinema Dramatic at Sundance and the Crystal Bear at the Berlin International Film Festival and was considered a breakout success.  Her first episodic series F**king Adelaide, which she created, produced and directed screened at Berlin film festival and Series Mania earlier this year and is up now on iview with screenings on ABC1 next month. She produced and co-directed the acclaimed feature documentary Life in Movement, winner of the Australian Documentary Prize in 2011. She also works as a Producer and believes strongly in nurturing new voices.  She was recently executive producer on A Field Guide to Being A 12-year-old-girl, the directorial debut of Tilda Cobham-Hervey which won the short film Crystal Bear at Berlin Film Festival this year. She previously produced feature documentaries Shut Up Little Man! An Audio Misadventure and Sam Klemke's Time Machine, which both premiered at Sundance. She is currently directing feature film Animals, staring Alia Shawkat and Holliday Grainger, producing a feature doc by Maya Newell (Gayby Baby) and in development on a number of film and TV projects. She is a co-founder of film collaborative, Closer Productions.
Chaired by Geordie Brookman, Artistic Director, State Theatre Company of South Australia
Is this the best of times or the worst of times to be an artist? There are more people than ever visiting galleries and museums, there are more and more music, film and arts festivals every year and online access makes the arts even more available.
But what is the motivation and the reward for the artist? Those performers, filmmakers, writers, actors, visual artists, musicians and more who work tirelessly to create, present and fund their work. Are Australian artists and artists the world over pursuing their craft for love or for money?
It could be said that artists are true entrepreneurs, they find opportunities, they secure investment and they find an audience for their work. But why aren't artists valued more in our society, surely these are the people that entertain us, enlighten us and give meaning and hope in challenged and troubled times. How can artists build successful careers, become financially sustainable and be recognised for what they bring to our society?
Presented in association with 2018 Adelaide Festival of Ideas and supported by Arts South Australia. Images courtesy the artists. Robyn Archer image copyright Rohan Thompson.
++++++++++++++++++++++++++++++++++++++++++++++++++++++++++++++++++++++++++++++++++++++++++++++++++++++++++++++++++++++++++++
VISIONS FOR A CREATIVE SOUTH AUSTRALIA
Arts policies in the SA state election
12:30pm – 2pm, Wednesday 7 March
The Palais, Adelaide Riverbank, Elder Park
Free entry (bookings not required)
Presented by the Arts Industry Council of SA and the Adelaide Festival, as part of Festival Forums with David Marr.
Speakers:
The Hon Jay Weatherill, MP, Premier of South Australia and Minister for the Arts
The Hon John Gardner, MP, Shadow Minister for the Arts
The Hon Tammy Franks, MLC, Australian Greens
The Hon Kelly Vincent, MLC, Dignity Party
Hazel Wainwright, Candidate for Mawson, Nick Xenophon's SA-Best
Facilitated by journalist David Marr
The arts and cultural sector in South Australia is a key contributor to our state's identity, employment, wellbeing, democratic participation, tourism and innovation. State investment in the arts, and in artists, reaps many cultural, social and economic benefits.
Hear parliamentary representatives and candidates from political parties contesting the March 17 state election discuss their visions and policies for the arts in South Australia, in conversation with journalist David Marr. The forum will include an opportunity to ask questions.
++++++++++++++++++++++++++++++++++++++++++++++++++++++++++++++++++++++++++++++++++++++++++++++++++++++++++++++++++++++++++++
AICSA END OF YEAR DRINKS + CREATIVE SA LAUNCH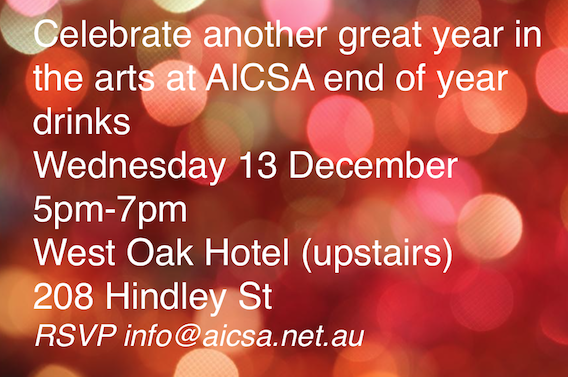 AICSA is pleased to invite you and a guest to end of year drinks to celebrate with friends and colleagues another great year in the arts. Join us as we also launch Creative South Australia and update on our 2018 state election campaigning.
Wednesday 13 December
5pm-7pm
West Oak Hotel (upstairs)
208 Hindley St, Adelaide
Light refreshments provided and complimentary drink on arrival (then Pay Bar).
Creative South Australia is an arts industry driven Vision for South Australia. It is being released as part of AICSA's 2018 state election campaigning:
AICSA calls on all major parties to make a commitment to the following
1. Release your costed arts policy in the lead up to the 2018 state election
2. Make a commitment to investment in SA's creativity
3. Work with AICSA and its members on plans for jobs growth and development
#ADELAIDEORIGINAL #CREATIVESOUTHAUSTRALIA #ARTSMATTER
++++++++++++++++++++++++++++++++++++++++++++++++++++++++++++++++++++++++++++++++++++++++++++++++++++++++++++++++++++++++++++
AICSA 2017-2018 BUDGET BRIEFING
Arts Industry Council of SA invites the arts sector to gather for a briefing about the State Budget 2017-2018 and what it means for the arts and for artists. The gathering will also provide information about AICSA's 2018 state election campaigning and how you can get involved.

Monday 26 June, 5.30pm-7pm, Free entry
Piano Bar, Adelaide Festival Centre
Free entry, register your attendance at Eventbrite here.