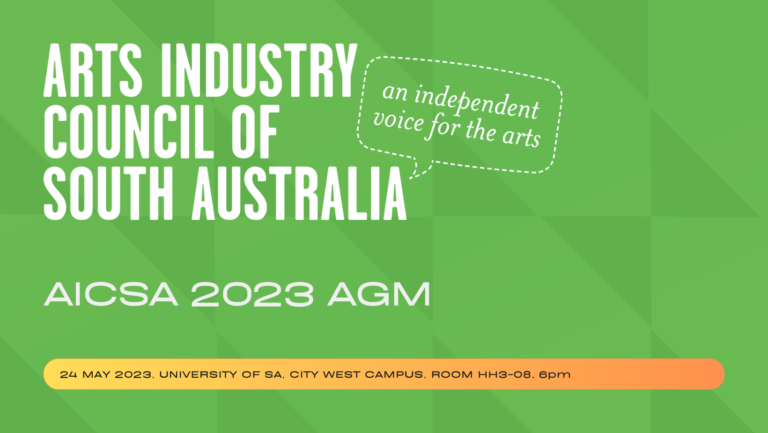 AICSA members are invited to attend the Arts Industry Council of South Australia (AICSA) Annual General Meeting:
Wednesday 24 May 2023 at 6:00pm
University of South Australia, City West Campus,
Sir Hans Heysen Building, Room HH3-08
The AGM will include an overview of AICSA's activities for 2022.
Following AGM formalities, please join us for networking and drinks at the West Oak Hotel.
For voting rights at the AGM, please become a financial member of AICSA or ensure that your AICSA membership is up to date. For any membership queries, please contact AICSA General Manager Kim Roberts via info@aicsa.net.au
EXECUTIVE NOMINATIONS
Financial members are eligible to nominate for the AICSA Executive and must be nominated by two financial members.  Please find the form included in the AGM papers below.
There are six (6) available vacant positions on the Executive, including 2 re-nominations.
All are welcome, however the Executive are currently seeking nominations for the position of Treasurer.
AGM AGENDA, FORMS AND PAPERS
Please find the AGM Agenda, Papers, Proxy Form and Nominations Form below (.zip 1MB).
Please RSVP and submit proxy/nomination forms via the link below before 5pm on Tuesday 23 May.