RESET: A NEW PUBLIC AGENDA FOR THE ARTS
11 & 12 November, Adelaide, Kaurna Yerta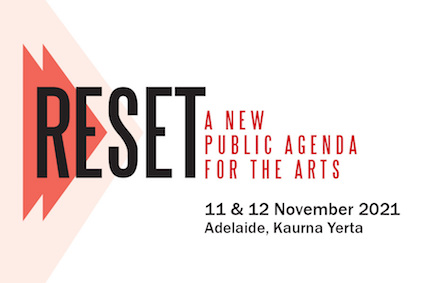 The Arts Industry Council of South Australia, and Reset – a network of practitioners, policymakers, and academics from all three universities in South Australia – announce a two-day conference, called Reset: A New Public Agenda for the Arts, to be held in Adelaide, Kaurna Yerta, on 11 and 12 November.
In the face of the undeniable crises facing the arts and cultural sector, the conference puts forward the case for a transformative reset of cultural policy and advocacy – a bold new public agenda for the arts.
Reset: A New Public Agenda for the Arts asks questions such as: How do we return arts and culture to their rightful place in public policy? What would public reconstruction of the arts look like? How could we create a fairer deal for artists and arts workers? What kind of new 'policy imaginary' can place arts and culture at the heart of a healthy, diverse, inclusive, and participatory democracy?
Promising two days of big ideas and conversation, the 33 speakers from around Australia include:
Kirstie Parker (journalist and policy leader, Yuwallarai), Jacob Boehme (Director, First Nations Programs, Carriageworks, Kaurna/Narungga), and Daniel Riley (incoming Artistic Director, Australian Dance Theatre, Wiradjuri), in a keynote conversation about 'Caring for Stories in a time of Separation'.
Tony Burke MP (Shadow Minister for the Arts) presenting a keynote 'Reset and Real Recovery: a vision for the future of Australian arts and culture'.
Artists and curators, including Ali Baker, Elaine Crombie, Jared Thomas, Julia Zemiro, David Pledger and Jo Dyer.
Writers and commentators, including Alison Pennington, Andrew P Street, Ben Eltham, Esther Anatolitis, Julianne Schultz and Tory Shepherd.
Senator Sarah Hanson-Young (Spokesperson for the Arts, Australian Greens) and Scott Ludlam (author and former Australian Senator).
Each day of Reset: A New Public Agenda for the Arts will include a session called I'll Take That as a Comment – a soapbox for artists, and academics, activists, and arts leaders, to put forward their wildest ideas and dreams for how we can transform the arts and cultural sector, in a seven-minute pitch.
PROGRAM AND REGISTRATION
Reset: A New Public Agenda for the Arts is now sold out, but there are tickets available to participate via the Livestream.
See the full program and list of speakers, and how to register for the Livestream here.