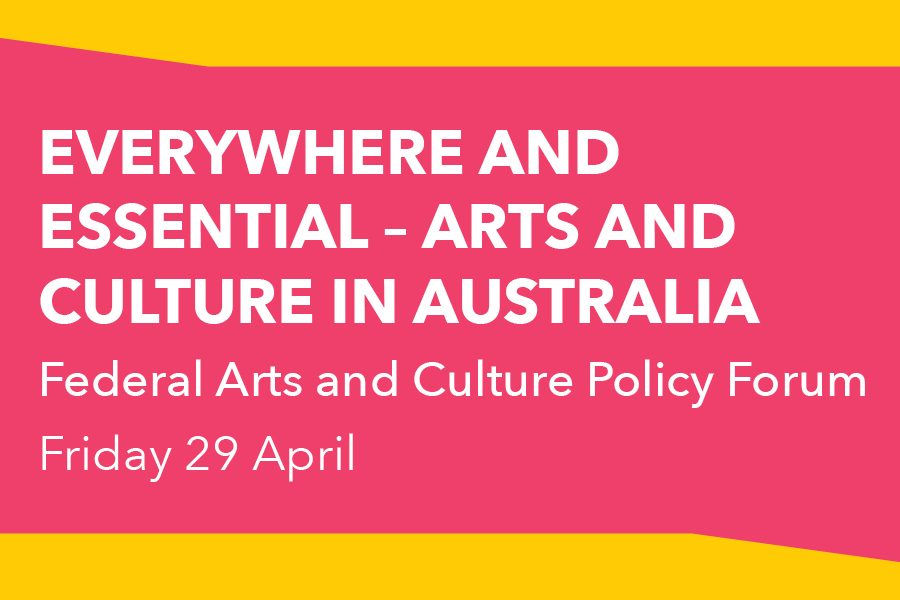 Friday 29 April
Cafe and bar open from 6pm, forum from 7pm – 9pm ACST
Marion Cultural Centre, 287 Diagonal Rd, Oaklands Park, Kaurna Yerta (+ online webinar)
Presented by the Arts Industry Council of South Australia.
Confirmed speakers include:
The Hon. Senator Sarah Hanson-Young, Arts Spokesperson, Australian Greens
Jeremy Carter, Australian Greens candidate for Boothby
Jo Dyer, Independent candidate for Boothby
Louise Miller-Frost, Australian Labor Party candidate for Boothby
The Hon. John Gardner MP representing Rachel Swift Liberal Party candidate for Boothby
Introduced by arts and culture policy commentator Esther Anatolitis
Hosted by Jessica Alice and Vince Ciccarello from Arts Industry Council of South Australia
Join us for a discussion about the future of arts and culture in Australia: the key visions, approaches and initiatives of different parties and candidates, and why supporting and rebuilding Australia's arts and cultural sector is an important challenge for future Australian governments. 
LIVESTREAM RECORDING
Livestream with live comments can be accessed via the following link: https://artsfront.com/-n3ZZO3x
Thank you to Arts Front for supporting the online webinar component of this event.